Containers for door-to-door collection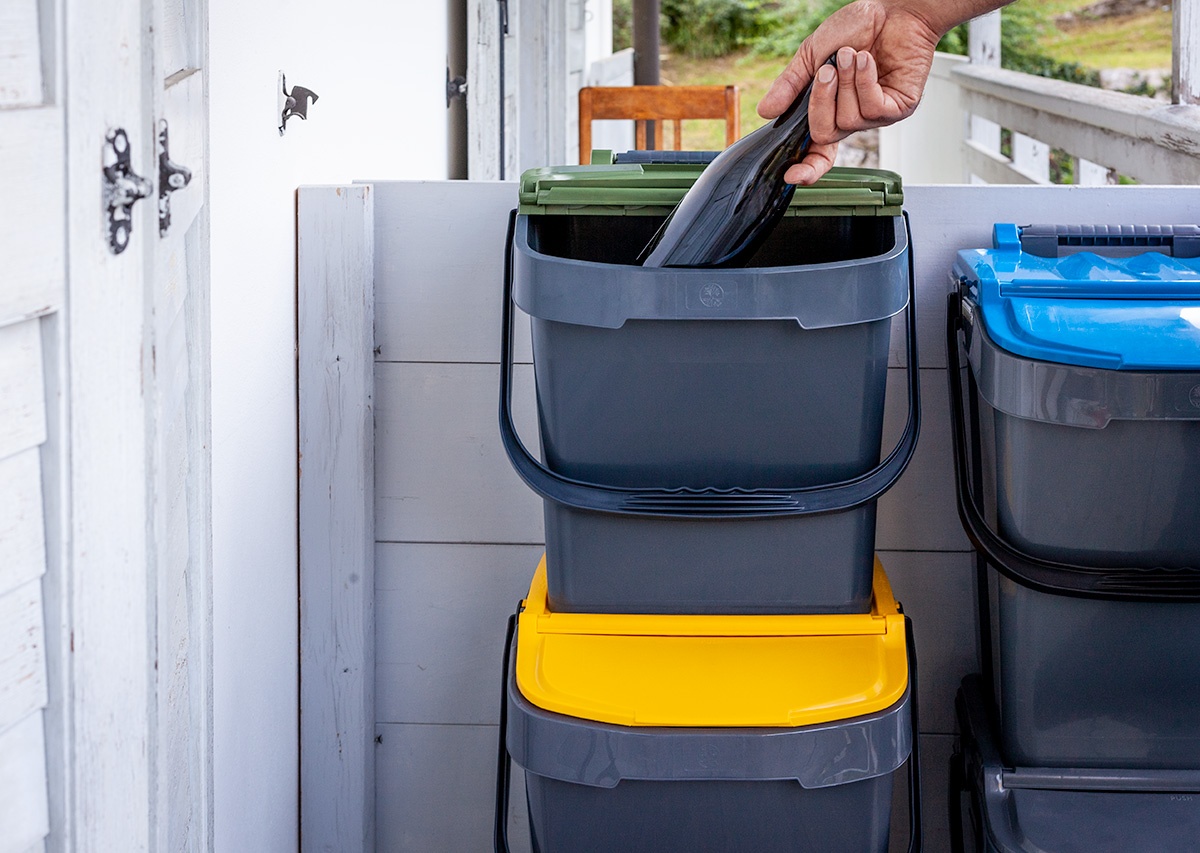 Italy is one of the most virtuous countries when it comes to separate collection. The door-to-door system made it easier to manage separate collection and helped to establish good practices. With right containers, always tidy and easy to clean, individuals commitment becomes easier and beneficial.
Function
The Urba line containers for the door-to-door separate waste collection have an innovative shape, which allows to place them in the space of only one container, both indoors and outdoors, and facilitate waste disposal.
Material
The Urba and UrbaPLUS containers are produced with recycled polypropylene, PSV (Second-Life Plastic) certified, from Separate Waste Collection, resistant to UV rays, chemical and biological agents and to severe weather.
Lid
The design of the lid allows piling up with other containers. Bayonet locking mechanism for watertight closure, with integrated silicone gasket, with embossed use instructions.
The locking system has a practical transport function.
The housing for the transponder (unique TAG) is in a protected position to avoid damage.
Body
The body of the containers for door-to-door collection is particularly resistant to continuous use.
Solid lowered hinges facilitate the placement of the bag
The top edges secure the bag and prevent it from falling inside
Possibility to stack, pile up and hang up the containers. For a space saving solution, containers can be stably piled up
Smooth internal surface for easy cleaning
Ergonomic grip on the bottom to facilitate emptying
The bottom is designed to optimize the use of the full volume
Rear and front handles are designed to facilitate one or two handed grip
Handle
The ergonomic handle acts as a lid holder, with lock in vertical position. The standard locking mechanism prevents animal interference and accidental opening of the lid.
It is equipped with a quick release with rotation of only 70° from the closed position.
Optional equipment
Hot stamping customization
The personalization of the containers is in-mould labelled on the body or on the lid
Transponder installation (unique TAG) and supply of the relevant database
Non-standard colours
Handle, lid and body can be supplied in the PROTECT version for higher hygiene
Available versions
Urba Plus 30-40-45
The particular shape of the body and the two-doors lid make it easy to open the UrbaPLUS containers, even when stacked. The moulded lid avoids the stagnation of rainwater.
The full-length anterior door guarantees waste disposal even with staked containers; the opening towards the outside keeps the available volumetric capacity unaltered.