Management control portal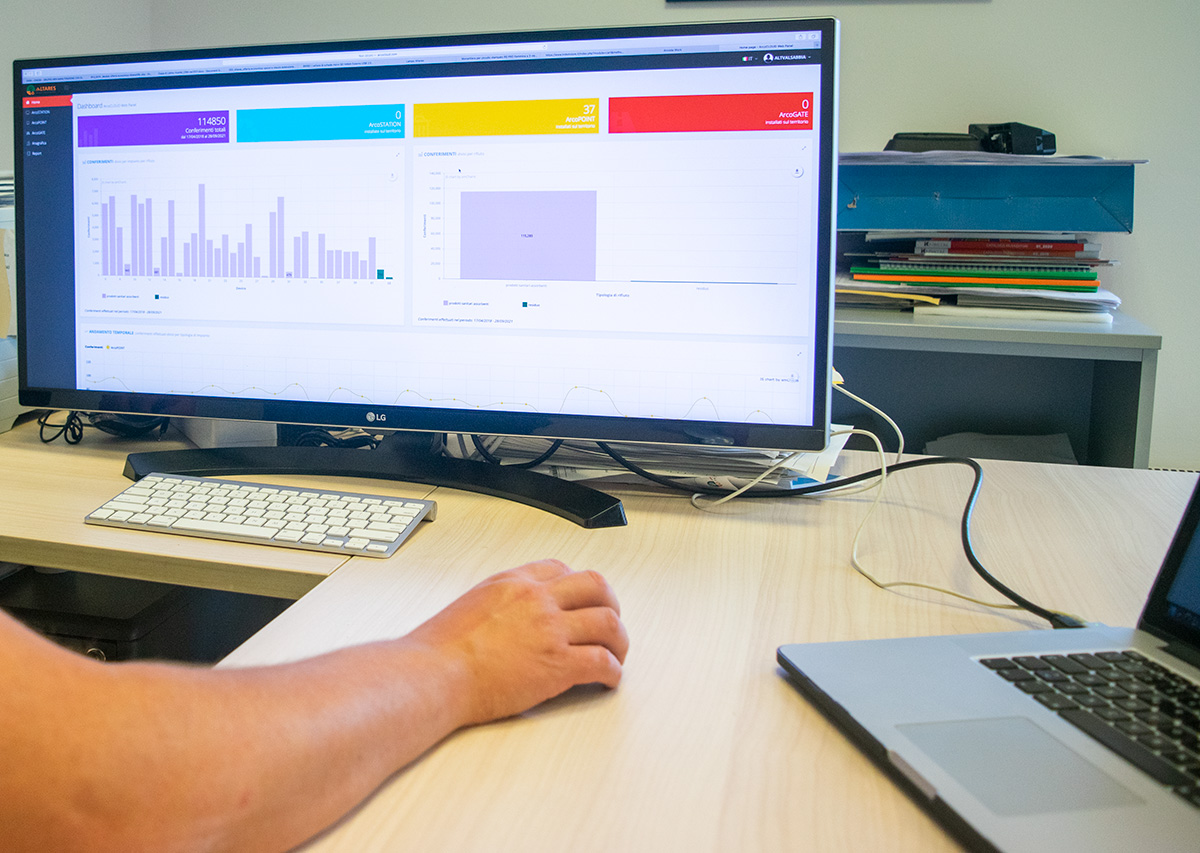 A separate waste collection system is effective and efficient when it optimizes collections and emptying by operators, and when it collects the emptying data of customers using door-to-door service, ArcoPOINT and ArcoSTATION road stations, or accessing drop-off centres.
All Sartori Ambiente products, from containers to road stations, from vehicle systems to mobile readers, are connected and coordinated by the data management software or by the cloud application.
Available versions
ArcoCLOUD
Function
Cloud application that collects and manages the information acquired and transmitted from ArcoPOINT, ArcoSTATION and ArcoGATE devices.
Features
The ArcoCLOUD web platform supplies real-time information about usage data of the complementary systems. Within the suite it is possible to check the number of disposals, any system malfunction and indications on the containers filling level, thus allowing an optimization of the emptying service.
The platform enables the creation of customized reports with the information indicated as necessary to have timely feedback on the system used.
ArcoCLOUD basic functionality:
Whitelist management of enabled users
Real-time monitoring of the operating status
Usage statistics and charts
Webservice in REST technology to safely export data to authorized platforms
ArcoWEB
Function
Vehicle data management software for waste collection.
Features
The GPS system allows to detect the position of the vehicle, the different service/transfer/stop times (stop, pause), the collection/emptying operations, the information detected by on-board sensors – if installed and active – and the mileage.
The installed GPS is set to read the coordinates every 60 seconds, every 100 meters of movement, at each stop and at each change of direction. This allows a more accurate and effective route planning.
This user-friendly system is based on the cartography provided by Google Maps, and it supports all the functions provided by Google such as satellite view and street view.
The data management software consists of a web portal, accessible via username and password, which allows to monitor the position of the vehicles, the data transmitted by the Arco40 EVO system and the data for final report processing.
REPORT
The management software allows to export sectoral reports, obtained from the data provided by the reading system. Standard reports includes various reports relating to vehicle activities (routes, stops, breaks), activities at points of interest, as well as the monthly activity and emptying report.
ArcoWEB basic functionality:
Vehicles data management
Real-time vehicle tracking
Map display of emptying
Vehicle activities
Summary of collection services