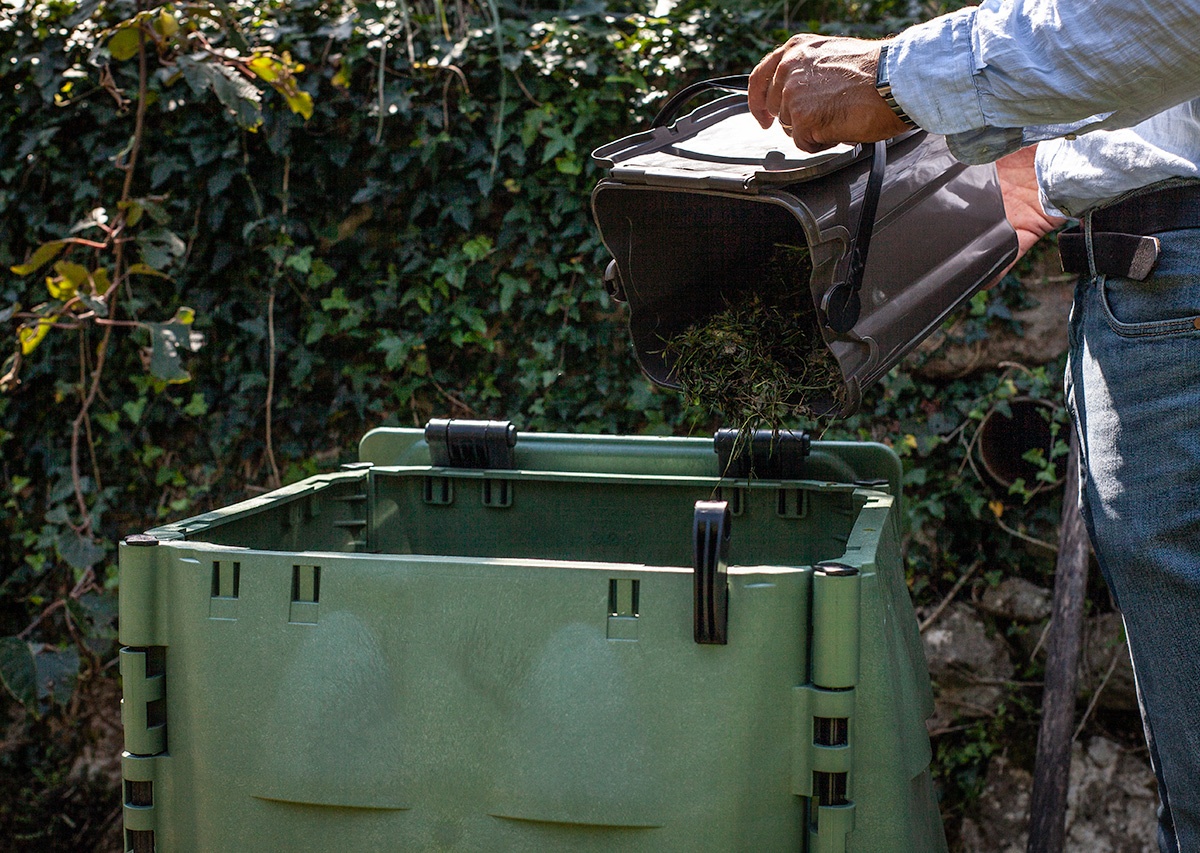 Domestic organic waste is almost always convertible into a precious resource, thus playing a role in protecting the environment and reducing waste. Producing compost at home is a practical and natural solution to manage organic waste from the kitchen and the garden. It contributes to activate a virtuous circle and produce excellent fertilizers.
Function
Home composting

With the home garden composter you will actively handle garden cuttings, vegetable waste and food scraps that are generated every day.
A garden composter has significant advantages:
It allows to reduce our environmental impact by reducing the amount of waste
It allows us to reduce the purchase of chemical fertilizers with a significant benefit for our health, as it is able to produce a sufficient amount of excellent compost
Composters capacities vary between 200 and 1000 litres to adapt to different needs
For a family of 3/4 people with a small garden, the most suitable is the 300 litre composter
The aerated Horto composters line is designed to reproduce the natural cycle: from the compost, to the soil and then to the atmosphere. The material used maintains adequate thermal insulation and the right degree of humidity necessary for the generation of compost, and it protects from atmospheric agents.
Managing compostable organic waste at home is even more effective and simple thanks to the instructions and the composting manual that can be downloaded from the CompostUP application.
Material
The Horto composters are entirely made of recycled and recyclable polyethylene, coming from selected post-consumer waste and certified "PSV – Second Life Plastic".
Lid
The lid is large and fixed by means of solid hinges.
Body
The body is the heart of the Horto garden composter and it allows for proper composting.
It has a practical modular structure hinged by means of self-cleaning rods
The 6-10 mm foamed, thermal walls are produced without chemical foaming agents
Structured walls are provided with aeration holes and conveyors to ensure excellent ventilation and correct humidity regulation
The body outline is designed to avoid rainwater infiltration from the aeration holes
The walls can be totally opened
The material guarantees excellent resistance to bad weather and chemicals
The shape facilitates storage, transport and assembly
Optional equipment
some CompostUp modules are fully customizable on request, according to the needs of the territory
Available versions