Containers for used vegetable oils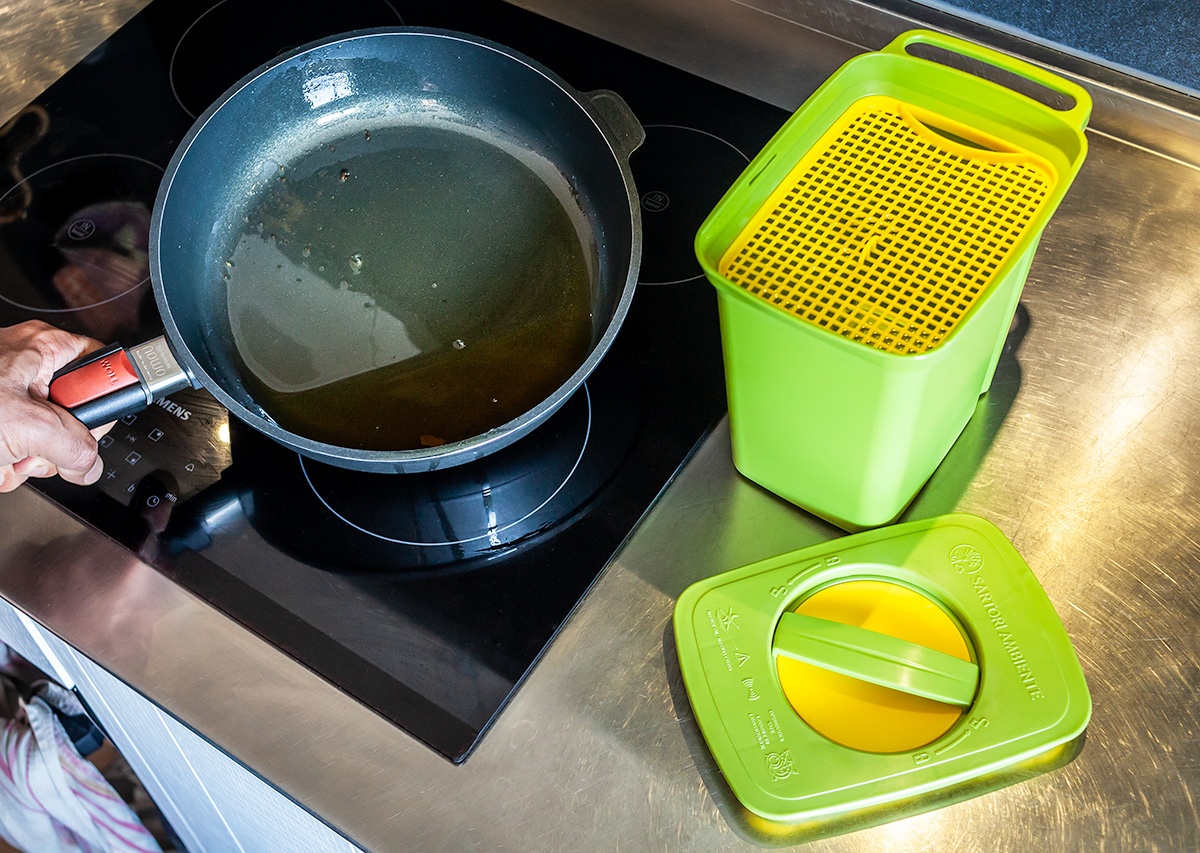 Function
Our containers for used vegetable oils are fundamental to simplify and help domestic collection and to safely store this waste at affiliated facilities.
The 3-litre UrbaOIL containers are easy to place at home, for example in the space under the sink; they are space-saving and resistant. The TANK OIL barrel is a totally safe container that stores 300 to 500 litres of oil even outdoors.
Containers for collecting vegetable oil
By "used vegetable oils" we mean residual oils produced while cooking. Once used, the oils become a highly polluting element if spilled on the ground or in drains. Without adequate filtering and treatment, they reduce the amount of oxygen available to the flora and fauna and the amount of sunlight that penetrates the water, with a high environmental damage in the sea, lakes and rivers. For example, a single kg of used vegetable oil is enough to pollute a water surface of 1,000 m2. This is why it is essential to segregate used oils through a proper separate collection.
Available versions
UrbaOIL
The UrbaOIL container for domestic collection of vegetable oil is stackable, space-saving, it can be piled up and it is available in the PROTECT version. Thanks to these features, it is the essential ally in the collection of this fraction.
Watertight: equipped with a silicone gasket and a closing system that prevents accidental oil spillage with embossed handling instructions
Ergonomic and handy: it can be moved with one hand and facilitates direct oil pouring
Hygienic: dishwasher safe
Taggable: associated with the user at each disposal; the transponder (unique TAG) is housed in a protected position
Customizable with front in-mould labelling
Produced in recycled polypropylene, PSV (Second-Life Plastic) certified, from Separate Waste Collection, resistant to UV rays, chemical and biological agents and to severe weather.
Optional equipment

Filtering grid
Front printing panel for corporate identity
Personalized CYMK in-mould labelling
LF/UHF transponder installation and initialization
Non-standard colours
Available in the PROTECT version
TankOIL
TANK OIL, container for the storage of used vegetable oils, has a vertical, cylinder shape and flat bottom.
Made of high density polyethylene, it is rotomolded to ensure a high mechanical and chemical seal.
UV rays and atmospheric agents resistant, it can also be installed outdoors on any flat surface.
Lid
Perfectly watertight, built-in perforated top for filtering, with a large upper hatch for disposal
The oil extraction hatch with threaded cover has a diameter of Ø 125 mm
Body
Equipped with a double tank: internal to contain vegetable oil, external with safety function (shock-resistant) and to contain any leaks
The situation is always under control thanks to the practical level indicator, visible externally, and the monitoring and verification light to check for liquid in cavity wall
Built in compliance with Legislative Decree 27 January 1992, no. 95, and with the Ministerial Decree 16 May 1996 no. 392. Compliant with the implementation of directives 75/439/EEC and 87/10/EEC, relating to the disposal of used oils; provided with safety symbols in accordance with the law and an adhesive label identifying the waste type.
Standard colours: green/yellow body, green lid.
Optional equipment

Padlockable closure on the suction cap