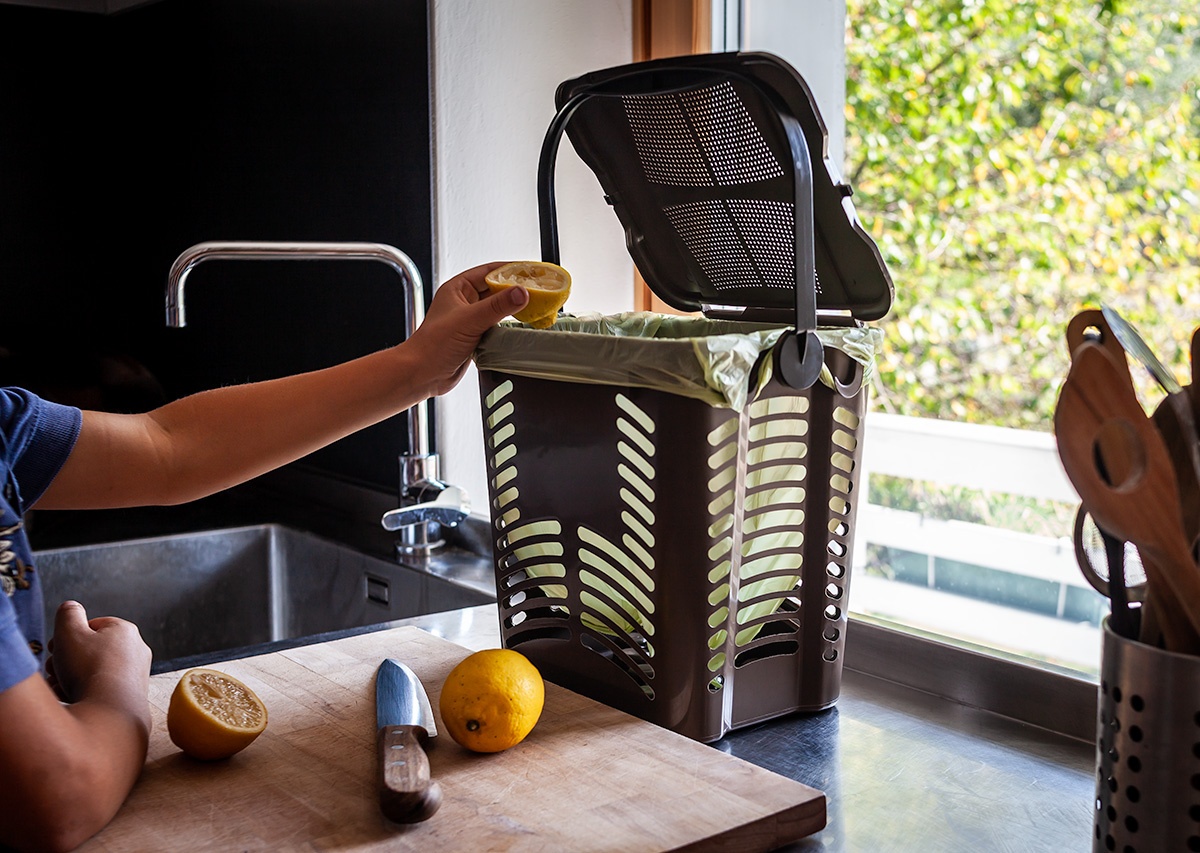 Wet waste, or Organic Fraction of Municipal Solid Waste (OFMSW), are all those substances of vegetable or animal origin (kitchen leftovers, pruning waste from public and private gardens, etc.) that make up about 1/3 of the waste generated every day. The best way to manage this waste is to turn it into compost, a nutrient-rich fertilizer. When a household does not have a composter, or a (vegetable) garden, it is not possible to do so, and it is therefore essential to separate it and have it collected by the authorized utility.
Function
The Stelo and Urba containers for door-to-door collection of organic waste are designed for simple and practical disposal.
They solve the main problems caused by this particular fraction of household waste:
the lack of space in the house
odours generated by anaerobic fermentation
the disturbing leachates
Designed to be kept in the small space under the kitchen sink or to be stacked with other waste collection containers, they guarantee hygiene and breathability.
In particular, the perforated and aerated Stelo system has quickly shown its advantages in terms of weight reduction of the original content, elimination of odours and moulds and bag sealing.
Like many of our solutions, Stelo also brings an air of innovation:
It eliminates odours generated by anaerobic fermentation
It eliminates the disturbing leachates with its strong breathability action in combination with compostable and biodegradable bags
It facilitates the disposal of organic waste with its wide opening
The aerated system provided excellent data on waste weight reduction by 12% in one week; this translates into significant savings in collection and management costs by the public service. Furthermore, no odours or mould were found inside the waste, while the compostable and biodegradable shopper remained intact and perfect for disposal. Tests have shown that organic waste segregation with closed containers records a reduction of 3% in the weight of the material, while with the aerated system it decreases to 22%!
Material
The Stelo and Urba containers are produced with recycled polypropylene, PSV (Second-Life Plastic) certified, from Separate Waste Collection, resistant to UV rays, chemical and biological agents and to severe weather.
Lid
The lid has a frontal grip, a wide opening on 3 sides and is joint hinged for easy replacement.
Body
The body is essential for the management of organic waste, both by the user and by the operators.
The sealed bottom guarantees no leakages of any liquids
Lowered edges and hinges facilitate the positioning and use of compostable bags
The front space can be used for the customization of the container
It is possible to house the RFID transponder
Handle
The handle acts as lid holder and is equipped with a standard locking mechanism, which prevents accidental opening or animals interference.
Optional equipment
Non-standard colours
Lid and body can be supplied in the PROTECT version for higher hygiene
Hot stamping customization
Locking device preventing animal interference
Available versions